We here at Hallowscreen are aware that there's more to cinematic horror than sharp-toothed prowlers of the night and are proud to announce that we've been given the opportunity to screen two feature-length zombie films and a short film that is probably the best adaptation to date of an H.P. Lovecraft story!
Deadlands 2: Trapped from filmmaker Gary Ugarek; winner Silver Scream Award - Best Zombie Film - Fright Night Film Fest 2009; winner Best Horror / Thriller and People's Choice Award winner for a Feature Film - World Music and Independent Film Festival 2010
ZOMBthology from filmmaker Chris Kiros; nominated for Best Actress: Tiffany Shepis, World Music and Independent Film Festival 2010
The Call of Cthulhu from the H.P. Lovecraft Historical Society; Multiple award winning film, receiving honours from festivals like the H.P. Lovecraft Film Festival, Eerie Horror Film Festival, World Horror Con, Rhode Island Film Festival, Avignon Film Festival and many more!
~~~~~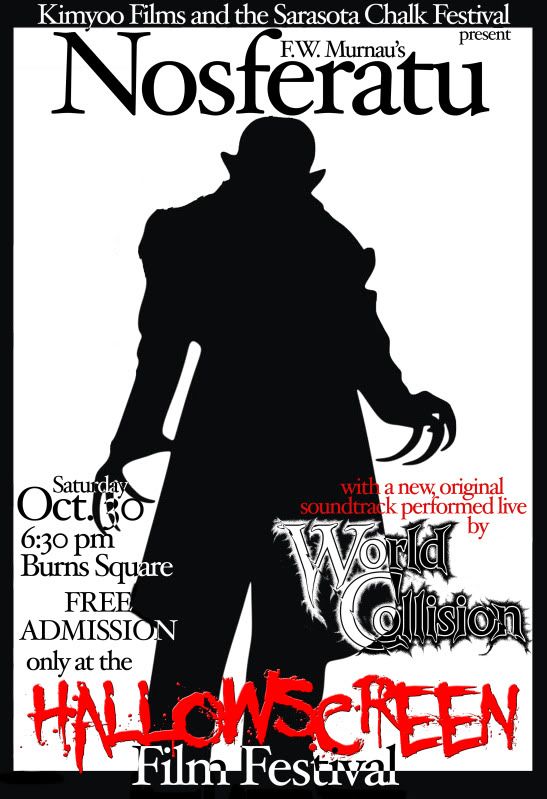 Nosferatu, with a new, original soundtrack performed live by World Collision, will be shown on Saturday, October 30, on the wall near where South Pineapple Avenue converges with South Orange Avenue in Sarasota, Florida!
~~~~~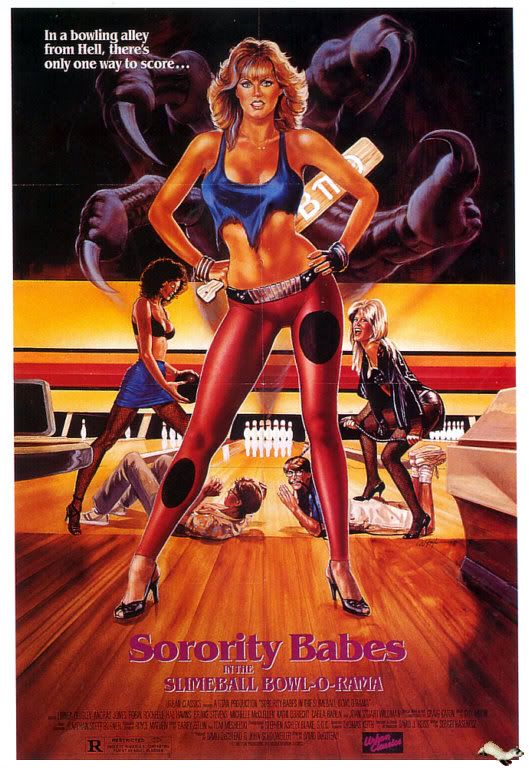 Horror movies wouldn't be the same without some of the wacky, weird, and wildly wonderful B-movies that make up a huge and popular part of the genre's history and the actresses who help bring them to life. To that end, the Hallowscreen Film Festival honors Scream Queen Brinke Stevens as our first Queen of Hallowscreen! With the very generous help of Full Moon Features, we bring you one of the films Ms. Stevens herself is proud of, one that she herself picked as one of her favourites out of the over 100 films she's been in: Sorority Babes in the Slimeball Bowl-a-Rama from 1988.
When a college initiation ceremony goes wrong, three sorority pledges are told to go steal a trophy from a local bowling alley. Aiding them in their quest are the three frat boys who got them into trouble in the first place. During their larceny, the trophy is destroyed releasing an evil, wish-granting imp who proceeds to cause mayhem and murder amongst the unfortunate students.
The film is gory and chock-a-block full of nudity, it is rated R after all so make sure you bring your ID, but it's also a hilarious send up of the genre and of itself. The film also stars Ms. Stevens' fellow Scream Queen Linnea Quigley (The Return of the Living Dead) and Andreas Jones (A Nightmare on Elm Street 4: The Dream Master.) Unfortunately, Ms. Stevens will not be in attendance.
RATED R. 1h 20m
For more information on Full Moon Features, the studio behind classic films like Puppet Master and Trancers and the distributor of films like Sorority Babes at the Slimeball Bowl-a-Rama, please visit
www.fullmoonfeatures.com
.